My lovely new friend, Christy, from Crayons and Whimsy, was SO generous and let my class babysit her chicks for a day! She hatched these bad boys with her class, and let my little ones enjoy them for a little bit. Make sure you click on the image below to check out her adorable blog.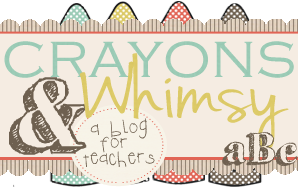 We just finished studying the
life cycle of a chick
, so getting to see the baby chicks in real life was such a treat for my kids! I mean, look how adorable this little guy is!
The kids sat in a circle and gently placed their hands on the ground, anxiously waiting for a little chick to walk across them. This is the closest they got. Those chicks were smart, they huddled in the middle of the circle, out of reach from the children. ;)
This photo cracks me up, because this chick is seriously staring straight at the camera! Christy had marbles in the water to make sure the little guys didn't "fall in." I was stressed that something horrible would happen to the chicks under my watch, but everything turned out fine!
Thank you Christy for sharing your feathered friends with us!